Singapore may be a bustling business hub in the morning. But at night, it becomes a party place. If you love the nightlife, then the island will not disappoint you. Singapore has a small but vibrant club and party scene and nighttime activities that are enjoyed by locals and tourists alike. There's an abundance of bars, clubs, restaurants, karaoke bars, discos, theaters, cinemas, and other night establishments in the area that cater to night owls. If you're planning a trip to Singapore soon and you want to experience the nightlife, then this article is for you.  There are a lot of things to do in Singapore when you visit it.  Below are fun activities in Singapore you can do at night.
Try local and international delicacies:
Eating is one of the fun activities in Singapore that you can do at night. If you're a foodie, then you need to check out Bugis Street, Changi Village, and Holland Village. These are the best places to go if you want to grab a bite in Singapore.
Bugis Street is where you can find affordable yet yummy street food and refreshing beverages. Changi Village may look like an old place in the morning but it becomes a lively nightlife destination after sunset. There you can enjoy viewing elegant old buildings as you eat and drink al fresco style.
If you want to mingle with the young and hip crowd, then you should head over to Holland Village. It's a place to see and be seen and this is why it's a favorite hang-out place of millennials, both local and foreign. The place is packed with bars, nightclubs, and restaurants that are open until the wee hours of the night. And if you're craving a particular dish, for sure you can find it there because of the wide variety of dining options.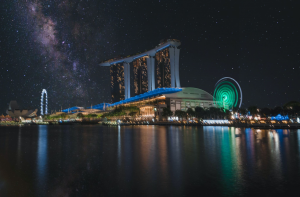 Enjoy a chill kind of evening:
If you would rather be close to nature and relax, then head over to Marina Bay. The place is simply dazzling at night. No wonder it's a favorite among tourists and ex-pats. Going to Marina Bay will refresh you, especially if you've been working hard all day. It's a great place to chill and to slow things down and simply enjoy the moment. Clarke Quay riverside is also a good place to go to if you just want to chill. It's also the perfect place to go if you want to take someone out for a date. Read more about How long after a delayed flight can I claim?
Go night shopping:
Shopping is also one of the fun activities in Singapore you can do at night. On the island, you can go shopping even at night. Many malls and shops are open until late in the evening. You can check out the posh boutiques along Orchard Road. The famous street comes alive at night with dazzling lights and huge LED billboards from the shops and commercial establishments. You can also head on to the night market at Bugis if you want to find good bargains. Then there's Mustafa, the large Indian megastore that is open for 24 hours.