There shouldn't be any argument as to which part of a house should look most beautiful. Does it sound weird? Well, the bathroom should be one of the best choices of rooms to give this lasting beauty. The bathroom is one of the most peaceful and self-relieving places in a house. It gives nature its free course and nurtures it to even look much better. So many people prefer to relax and stretch their bodies more in the bathroom.
The bathroom is one of the easiest places in the house to settle for a beautiful design. The decision is easy because the bathroom is only utilized for specific reasons. It becomes exciting when choosing the designs for a bathroom, especially if you have the right ideas. A lot of factors must be considered when choosing interior designs for your bathroom for the best possible outcome.
Let's take a look at the five simple ways to beautify and create lovely experiences in the bathroom.
Choose Suitable Colors
There is no doubt how beautiful colors change the appearance of a room. Your choice of color is very important in achieving an amazing bathroom. Irrespective of the choice of sink and water basins in the bathroom, paint the walls with colors that bring out the tone of the equipment all around.
One of the best color choices is white and a tone of red. This color combination makes the bathroom interesting at first sight. Do not forget to consider the color of the tiles in the bathroom as well. Note that it is best when everything in the bathroom blends.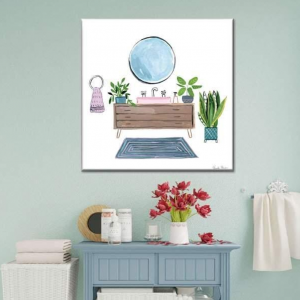 Shower curtains
Just as you have your beautiful center table in the living room or have a lovely ward riding in your bedroom. Your choice of shower curtain plays a significant role in the bathroom. It does not only cover open places but also makes the bathroom beautiful. Choose a shower curtain with so many drama paintings on it. It gives your bathroom an intense look. Read more about Tips to Design Farmhouse Style Kitchen.
Add Mirrors
What is a bathroom without a mirror? As much as you have the bathroom equipment ready, get a minimum-sized mirror. Place the mirror in a corner with a little flower vase beside it and light reflecting on it. Take a selfie in front of the mirror and thank me later.
Use Creative Wall Arts
Interior designs are not complete without the presence of high-quality wall art painting. To make your bathroom exciting and have more fun, hang a few wall art paints that speak the refreshing language of the bathroom. If you have a favorite life adventure, you can also make it known to the world in wall art painting. If your choice is wallpaper, then go for it as well.
Are you confused about where to get high-quality wall art? You will find varieties of creative and high-quality wall arts at ElephantStock.
Compare other Rooms
Par adventure, you have a little doubt about your choice of design for your bathroom; this is where you check other rooms to see if you are still in line. The language the house speaks must be a whole. You don't want a bathroom that is out of context. You can finally decide what other things to add or remove from your bathroom after comparing it with other rooms in the house.
Final thought
There will always be something to add or something to remove. Make sure you are open to creating new experiences and adventures in your bathroom by adding more things or removing as much.  Don't forget that the ultimate goal is giving your bathroom the best possible look.